Disclosure: As an affiliate I may earn a commission on any qualifying purchases, including those from Amazon, at no extra cost to you -read more
Dashcams can prove invaluable following an accident or insurance claim, but they can also be obtrusive when plugged in to your 12V cigarette lighter socket and frustrating to constantly remove. That's why most people will choose to have their dashcam hardwired to the car's battery instead.
Many people are rightly concerned that hardwiring a dashcam will draw too much power and give you a flat battery. In this guide, we'll address whether this is the case and give some preventative tips.
Does a dashcam drain your car battery? If a dashcam is hard wired to your battery, it will usually be connected so that it can continue drawing power when the car is off, this could drain your battery if the right pre-cautions are taken. However, any good hardwire kit will have a built-in voltage meter which cuts out when the battery reaches a critical point.
Keep reading for our recommendations on the best hardwire kits with voltage meters so that you don't end up with a dead battery from your dashcam.
---
How to Prevent Your Dashcam from Draining Your Car Battery
If you don't want a dashcam to draw from your battery when the car is off, this can easily be achieved by hard wiring the camera through a fuse that turns off with the engine. However, the downside of this is that you won't be able to use parking mode which is a key feature of most devices.
If a dashcam is hardwired to remain on when a car's ignition is off (as most dashcams are), the dash cam can continue to draw on the cars battery throughout the night.
In this instance, it is essential that you use a hardwire kit with a built-in voltage meter that cuts out when the battery reaches a critical point and prevents it from going flat. Try to avoid cheaper hardwire kits that will continue drawing power until the battery is completely drained, below we'll share some recommended kits for various dashcams.
---
Recommended Hard Wire Kits
In order to ensure you don't drain your battery with your dashcam, we recommend these hardwire kits with built in voltage meters to monitor your battery level:
Blackvue Power Magic Pro
A hardwiring kit designed for Blackvue Dashcam Parking Mode Operation. It prevents car battery discharge via a pre-set timer or pre-set voltage cut off. There is also a parking mode on/off switch.
Suitable for all Blackvue dashcams.
Nextbase Series 2 Hard Wire Kit
This hardwire kit can be installed in minutes, there is a 5 metre power cable included so the wire can be hidden away. It is not only compatible with Nextbase dash cams, it is also compatible with other brands of dash cams.
Designed for Nextbase 122, 222, 322GW, 422GW, 522GW and 622GW, although suitable for most brands.
Vantrue Official Hardwire Kit
Halfords HDC Dash Cam Hardwire Kit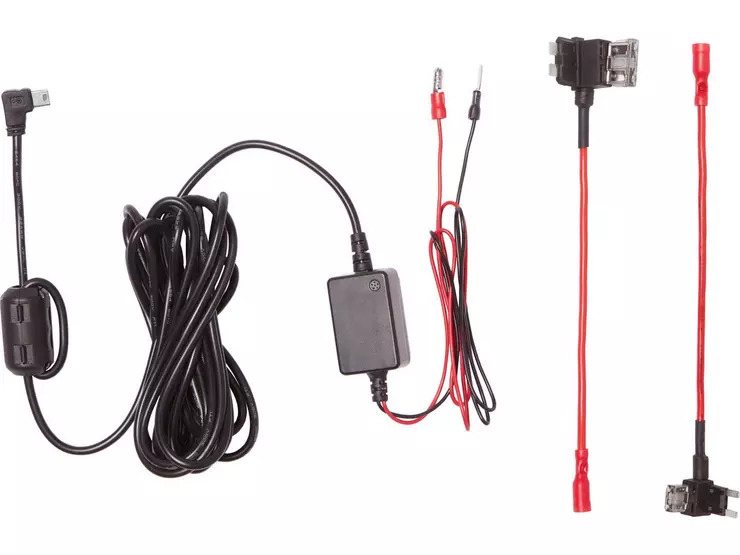 This hardwire kit wires a dash cam to an engine, which frees the power socket. It is compatible with any Halfords HDC Dashcam or any brand of dash cam with a mini USB connection.
Suitable for all Halfords HDC models.
---
Hardwire vs 12V Cigarette Lighter Socket for Dashcam
Whether you choose to hardwire your dashcam or use the lighter socket is up to each individual, but owners will usually opt to hardwire if it's going to be a permanent placement.
Here is a summary of the pros and cons of each method:
The cigarette lighter method of installation:
The hardwire method of installation:
Our thoughts:
We have shown that there are equal pros and cons for each method of installation. Whether it is better to hard wire or plug in to a cigarette lighter is really down to personal preference and how the dash cam will be used.
For instance, if the dash cam is needed for multiple vehicles, then the cigarette lighter method will be the most efficient. If the dash cam is for permanent use for one vehicle, then the hardwire method would make more sense. Either way, those are two straight forward methods of dash cam installation.
---
Should I Unplug my Dashcam at Night?
Whether or not you unplug your dashcam at night is down to whether your cigarette adapter port is always on and still uses power when a car is fully off. If this is the case, the dash cam does need to be unplugged at night as it could result in a flat battery.
If a dashcam uses a basic hardwire kit that only uses two wires, a red for power and a black for ground, this is most commonly plugged into a fuse that turns on and off with a car. This will not drain your car battery, as this will not feed power to the dash cam when your car is completely switched off.
However, if you use a hardwire kit made for a dash cam with parking mode (similar to those recommended earlier in this article), it will have three wires, red which is constant power, yellow which is car battery power and black which is ground. This wiring is designed to use the car battery whilst the vehicle is stationery, so if the dash cam or hardwire kit is not effectively monitoring a car's battery voltage, it can unfortunately drain a car's battery.
---
How a Dash Cam Battery Pack Can Help
A dash cam battery pack helps solves car battery draining issues as it independently powers a dash cam separate from your cars main power source.
These battery packs are designed to power a dashcam whilst the engine is off, and they will recharge themselves using the cars battery only when the engine is on. These can often have many days of power so you can leave your car with parking mode on for whole weekends or even a week at a time.
Here are some of our recommended dashcam battery packs:
Egen Cellink NEO 6 Dash Cam Battery Pack
The Egen Cellink Neo 6 is compatible with a broad range of dashcams including Nextbase, Thinkware, Blackvue and more. It can provide 45 hours of charge and can be hardwired so that it recharges when the car is running. It has a companion app that can be used to check on your battery's status at any time.
BlackVue Power Magic Battery B-112
A simple method of saving a vehicle's battery whilst in parking mode, the BlackVue battery will power a dash cam when a car user puts their car into parking mode. No hard wiring is required as it plugs into a car's cigarette lighter.
---
Final Thoughts
Depending upon how your dashcam is installed will impact how it draws from your battery and whether it could drain the battery.
We would always recommend a hardwire kit with a built in voltage meter to prevent a flat battery, but if you're willing to splash out that little bit extra, a dashcam battery pack is the optimum way of powering your dashcam in parking mode.
We hope this guide has been useful and would encourage you to check out our other dashcam articles.

Ellie used to work in a Vauxhall dealership but has now turned her passion to writing about cars instead. Ellie currently drives a Corsa but as an electric vehicle fanatic has her hopes on one day owning a Tesla. It will, of course, be grey as she only ever owns grey cars.