Disclosure: As an affiliate I may earn a commission on any qualifying purchases, including those from Amazon, at no extra cost to you -read more
Have you been wondering what happened to your old car that seemed like it was on its last legs (or wheels)? Well, this is quite common and thanks to a simple new service from the DVLA, you can quickly see if your old car still exists and whether it is roadworthy or not.
Keep reading for step-by-step instructions to using the service and some tips on how you might be able to track down the owner.
How To Find Out if Your Old Car Still Exists
Finding out whether your old car is still on the road is very simple using the vehicle registration plate and the vehicle enquiry database. Here are step-by-step instructions:
Go to the DVLA Vehicle Enquiry site.
Enter the registration plate of your old vehicle and click 'Continue'
Check that the make and colour are correct and select 'Continue'
You'll now see the tax and MOT status of your vehicle to find out if it's on the road.
The information you will see will tell you whether the car still exists and whether it's currently taxed and MOT'd. It also provides the last V5C issue date so you know when it last changed owners.
After entering your vehicle and confirming it, you'll be greeted with one of the following screens:
If your vehicle exists and is still on the road, you will see the following: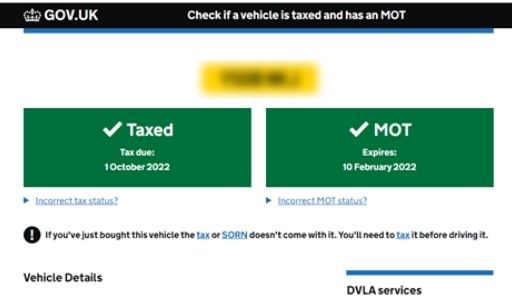 If your vehicle still exists but is no longer on the road (e.g. it has been SORN'ed), you'll see a screen like this:
If your old car has been scrapped, the system will not be able to find it so the result will show as 'vehicle details could not be found' like this: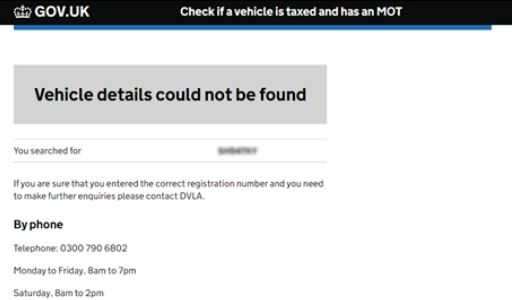 ---
What Other Information Can I Get?
If the status of your vehicle isn't enough and you want more substantial information, you can do a paid background check on your car. This is similar to the check you'd perform when buying a second-hand car.
My favourite background checker for cars in the UK is the AA. For £15 per car (or £6 if it's multiple vehicles), you can find out:
If it has been written off by an insurer
No. of previous owners
Whether it has been recorded as stolen
Any outstanding finance
Logbook check
Import/export status
Any changes to the registration plate (e.g. private plates)
If the vehicle has been recorded as scrapped
---
Related Questions
Can I Track Down My Old Vehicle?
Whilst the above steps will tell you if your old car still exists, you won't be able to track it down because the personal details of the current owner are not revealed.
If you're hoping to track down your old vehicle and maybe even buy it back, you can try the following steps:
Check Drive Archive to find out if someone has added it and shared any photos.
Ask in relevant Facebook groups such as your area or groups specific to your make/model.
Can You Search for a Car by VIN Number?
The Vehicle Identification Number (VIN) is stamped into the chassis of a vehicle. Although using the number plate and the official DVLA website is the best way to search for a vehicle, you can also use the VIN to find it at vincheck.info.

Kieren is the founder and editor-in-chief of Auto Adviser. Kieren created the site to share his passion of cars that began long before he passed his driving test and is now a recognised contributor in the industry. Outside of cars, Kieren loves drinking coffee and travelling to far-off lands.